Tri-Met says it will fix the crime problem, Again?
We know they would not say anything they could not back up.
So how can we tell .
How about looking to the past promises such as
McKay said there were indications some of the security problems aboard Tri-Met vehicles were "gang-related." In a prepared statement, Governor Goldschmidt said: "I am absolutely adamant that its (Portland's) citizens feel safe at all times in using a fine mass transit system.'"˜ 1988
The actions of the past are usually a good indication of future actions.
We have not learned from our history and we are repeating it.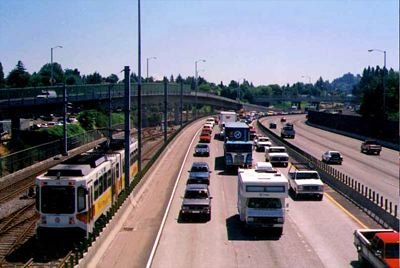 UNION OBJECTS TO PRIVATE TRANSIT GUARDS
Oregonian, The (Portland, OR)
July 8, 1988
STAN FEDERMAN – of the Oregonian Staff
Tri-Met has hired private security guards to ride buses and light-rail
trains on Friday and Saturday nights, an action its union claims violates the
labor contract.
————————————————————————————————————–
TRI-MET'S LOTS PARK & LOSE FOR VICTIM
Oregonian, The (Portland, OR)
June 24, 1988
CHRIS MYERS
Her car has been stolen from them four times in the last four years.
The police don't keep records of thefts and break-ins at Park & Ride lots,
and neither does Tri-Met.
"We don't see it as a big problem, but every time a crime is committed,
obviously it's a big problem for the victim," said Phill Colombo, a public
information officer for Tri-Met.
Colombo said more thefts might be reported from Gresham simply because
there were more lots there.
————————————————————————————————————–
TRI-MET SECURITY PLANS
Oregonian, The (Portland, OR)
June 24, 1988
Tri-Met announced Thursday its plans to spend $620,000 in the coming
year to improve security measures. During the 1988-89 fiscal year, which begins
July 1, Tri-Met plans to improve security aboard its vehicles, develop in-house
security-conscious training and strengthen the agency's ties with the community
and overall crime-prevention efforts. Here are the recommended security
expenditures:
————————————————————————————————————-
TRI-MET TO TRIPLE MONEY BUDGETED FOR SECURITY
Oregonian, The (Portland, OR)
June 24, 1988
STAN FEDERMAN –
——————————————————————————————
GOVERNOR DIRECTS STATE POLICE TO RIDE TRI-MET
Oregonian, The (Portland, OR)
November 12, 1988
STAN FEDERMAN
Quotes from the article
Floyd McKay, who called the new unit "a preventive action . . . so we can deal with
the problem before it becomes more serious."
McKay said there were indications some of the security problems aboard Tri-Met
vehicles were "gang-related." In a prepared statement, Governor Goldschmidt said:
"I am absolutely adamant that its (Portland's) citizens feel safe at all times in
using a fine mass transit system.'"˜
Doug Capps, Tri-Met's public services director, "It will allow us to better work
out a long-term solution with local law enforcement people," he said.